Siklu delivers a complete multi-gigabit fiber-like wireless solution that starts with planning and covers access and aggregation in urban, suburban and rural settings.
Operating in the millimeter wave bands, its wireless solutions are used by leading service providers and system integrators to provide gigabit broadband, 5G fixed wireless and smart/safe city connectivity. Tens of thousands of carrier-grade systems are successfully deployed and delivering interference-free performance worldwide.
Easily installed on street-fixtures or rooftops, the price-competitive radios have proved to be ideal for networks requiring fast and simple deployment of secure, fiber-like and future-proof connectivity.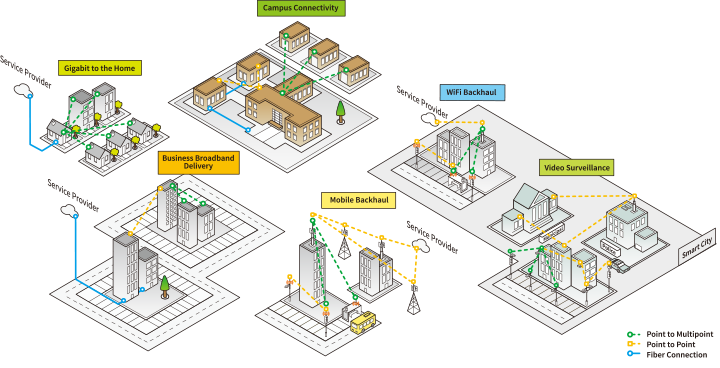 ■Why Siklu Millimeter Wave?
・Recognized leader and innovator in mmWave technology since 2011
・ROI – 3 to 4 times less expensive than trenching fiber and 1/10 of the time to revenue
・Cloud-based network planning tool
・Outstanding product quality and support
・Economically priced carrier-class equipment
■Siklu's Key Selling Points
・Complete mmWave wireless offering – PtP and PtMP
・Fiber-like wireless – up to 10Gbps full duplex
・60GHz, 70/80GHz bands – narrow beams, no Interference
・Extremely high reuse factor even in dense urban areas
・Adaptive modulation overcomes weather-related downtime
・Proven reliability- >90 year MTBF
■mmWave Applications
・Business / Residential 5G Fixed Wireless

・Video Surveillance Connectivity ・Smart Cities
・Wi-Fi Backhaul
・Fiber Extension / Redundancy
・Macro and Small Cell Backhaul
Siklu Integration for Security and Smart City Network