Creating Solutions for Emerging Issues
In business for 70 years since our foundation in 1948, SUNTEL has evolved into a communications-based firm.
As a leader in the information and communication field, we have a long track record of earning client trust in areas such as business support, information transmission, product procurement, logistics/inventory, and technical support.


Our rich experience creates a platform for trailblazing in emerging business fields such as energy and IoT, while ensuring we can support clients in international business within expanding global markets. Our achievements reassure clients of our determination to embrace future challenges.


Our technical know-how, honed and enriched over years in the information and communication industry, ensures that SUNTEL stands poised to offer new solutions to challenges faced by customers and society in this innovative age.
We help breathe new life into projects, supporting enhanced client activity.



Our 70th anniversary sets the stage for a new era at SUNTEL.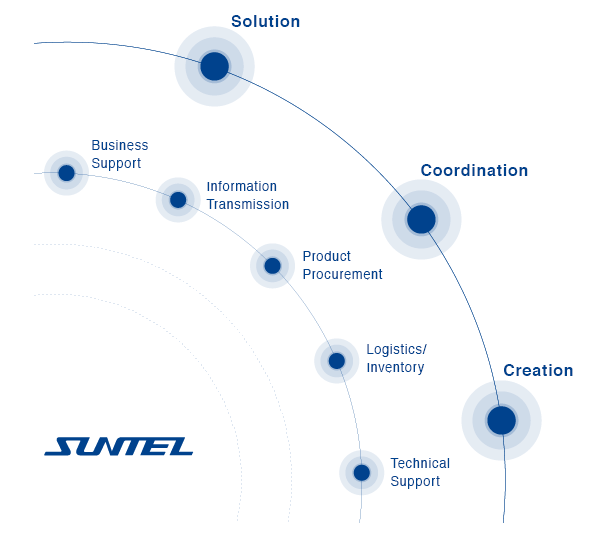 Information-Communication Business
SUNTEL is your One-Stop Distributor for all your business needs.
Our multi-vendor services provide the distribution function necessary to help you build your ICT environment.
New Business
Look to SUNTEL for solar energy materials and construction support.
SUNTEL offers components and devices for FA-based IoT network construction
*Factory Automation
Global Business
Plant/factory electricity and instrumentation work, plus ODA-type third-country component procurement and sales.
Marketing support leveraging local subsidiaries in Thailand.