dinnteco 100plus
Lightning rod with "stop lightning strikes from occurring" mechanism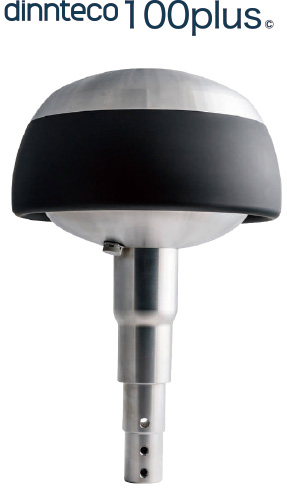 While traditional lightning-rod system works as "conduct and drop lightning down",our dinnteco-100plus is an entirely new lightning rod with the ability to "suppress" lightning occurrence.
This has solved the major problem facing the traditional lightning rods: lightning surges (electrical and electronic damage caused when huge currents pass through the lighting rod) caused by direct lightning strike.
The latest and best solution for lightning damage,whose costs and losses are now estimated to be over 1 trillion JPY per year.


■Technical Data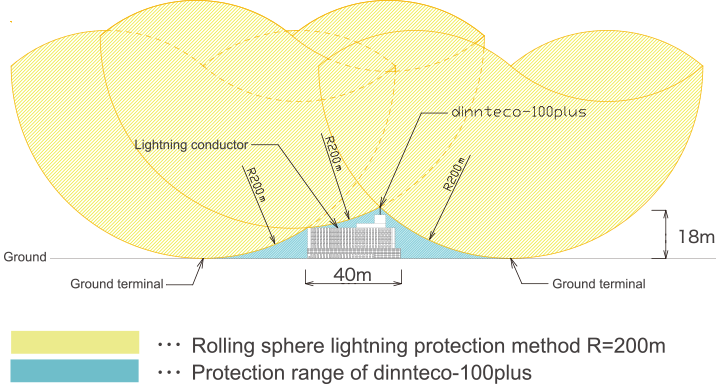 ■Product Specifications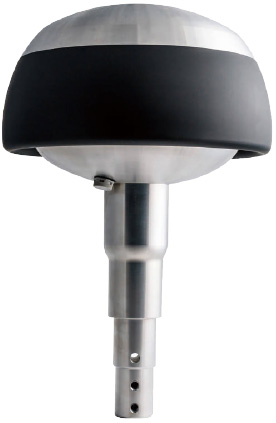 Compatible with various structures on land and at sea
This latest model is compatible with environments at risk of fire or explosions,
such as power plants and hazard substance storage facilities,
structures in areas at high risk of lightning strikes, and areas where lightning can strike in the winter. With a wide production range covering up to 100m,
this device has been installed at various facilities around the world including NATO facilities. (Patent No. 6342869)
| | |
| --- | --- |
| Dimensions (max. width/height) | Φ244 x 370mm |
| Unit weight | 7.4kg |
| Unit material | Aluminum, polyvinyl chloride |
■Communication tower in Masella, Spain (Demonstration test period:1 year 7months)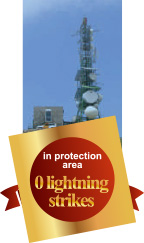 Lightning struck zero times atMasella communication tower, in area with high frequency of lightning!
dinnteco-100plus was installed at the Masella communication tower owned by ABERTIS TELECOM in Spain. Previously, lightning that damaged the electric and electronic parts struck often. After dinnteco-100plus was installed, there were 374 lightning strikes within a 3km area, but zero strikes within the protection range (100m radius).
| Distance drom device | No. of lightning srikes |
| --- | --- |
| 0m (direct lightning strike) | 0 strikes |
| within 100m | 0 strikes |
| 100m or more, less than 300m | 11 strikes |
| 300m or more, less than 500m | 8 strikes |
| 500m or more, less than 900m | 50 strikes |
■Weather radar from Biscay, Basque Country, Spain (Demonstration interval: 2 years)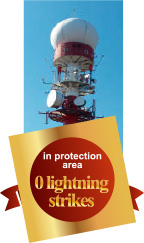 Spanish State Meteorological Agency radar protected from winter lightning
dinnteco-100plus was installed for the Spanish State Meteorological Agency weather radar. Basque Country is known as having a high lightning rate. The radar had been directly struck by lightening before dinnteco-100plus was installed. Even during the demonstration, there were 96 strikes within a 2km radius, but there were zero cases of lightning strikes, including winter lightning, within the protection range.
| Distance drom device | No. of lightning srikes |
| --- | --- |
| 0m (direct lightning strike) | 0 strikes |
| within 100m | 0 strikes |
| 100m or more, less than 300m | 11 strikes |
| 300m or more, less than 500m | 8 strikes |
| 500m or more, less than 900m | 50 strikes |
■More than 6000 devices have been installed at facilities and equipment around the world
Panama Canel
Cincinnati/Northern Kentucky International Airport Control Tower
Adolfo Suárez Madrid- Barajas Airport Flight Radar
Cap Roig Castle ruins
Chile mine
Train Station
BTV Cable Televison (Miyazaki)
Factory (Aichi)
Hospital (Osaka)
Disaster Prevention Radio Tower (Ishikawa)
Large sports park (Yamanashi)
Hydroelectric power plant (Yakushima Island)
■Bureau Veritas Certified Compliant with JIS (IEC) Standards and Building Stand ard Laws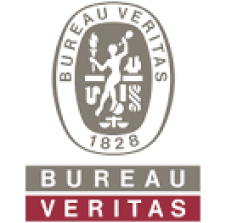 In 2008, the product passed the test carried by "Bureau Veritas" (an organization specialized in testing, inspection and certifications. Its mission is to check whether a product is qualified for the standards set by public institutions or not) and obtained certification for IEC Standard (* 1),(an international standards for all electrical, electronic and related technologies) & ISO (* 2).

*1 ESO36861 IUNE-EN (IEC 62305: 2011 Protection against lightning)
*2 ISO 9001:2008 (Quality Management System)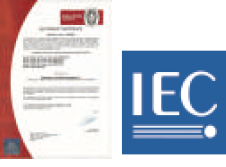 The dinnteco-100plus has been certified for conforming to IEC Standards by the third party and accredited certification body "Bureau Veritas".
IEC Standards are the standards used for industrial products, which are consistent with the Japanese JIS Standards in terms of contents.
■Safe with complliance to various certification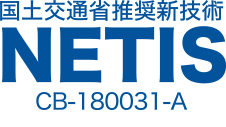 Registered in the New Technology Information System (NETIS) of Japanese government's MLIT (the Ministry of Land, Infrastructure, Transport and Tourism). NETIS registration number: CB-180031-A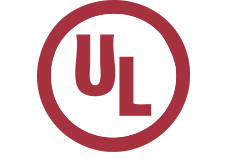 dinnteco-100plus has been certified by the UL, the American safety consulting and certification company. (UL96:Standand for Installation Requirements for Lightning Protection Systems)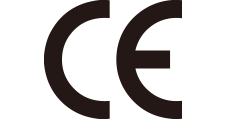 The device complies with CE Marking requirements. Compliant with product safety and electromagnetic compatibility work limits.
■Certified installation policy
Solid installation provided by certified contractors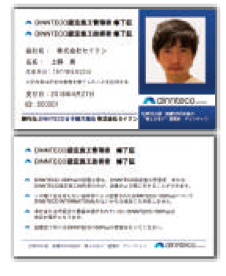 A "certified installation policy" is applied for the installation of this product to ensure that the dinnteco-100 plus operates accurately.
Detailed installation procedures and a check list, supervised by the manufacturer, are used to ensure constant installation quality.
Reliable manufacturer certified installation quality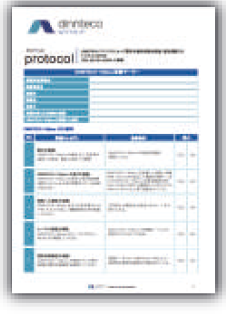 After the device is installed, an installation report is prepared and submitted by dinnteco Japan to dinnteco International.
This report ensures that compensation for lightning strikes will be provided in the event damage occurs.
(* The maintenance report prepared in the following year is submitted in the same manner.)
Extend compensation by a year with once-a-year maintenance
The compensation for lightning strikes (one year from installation) can be extended by one year through once-a-year maintenance performed by the certified contractor.
Compensation can be extended for up to five years.
■Warranty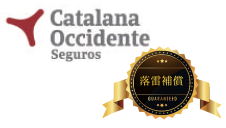 Providing compensation for lightning strikes in cooperation with major insurance provider with coverage in 50 countries and 160 bases worldwide (Optional Service)
| Compensate up to €6,000,000 for lightning strikes | Extend for up to five years |
| --- | --- |
| Physical damage, caused by a direct lightning strike on the body of the dinnteco-100plus and within its protection range, will be covered up to €6,000,000 (aprox. US$7,300,000) per year. | The one-year compensation period starts immediately after user registration is completed. The compensation period can be extended for up to five years, in one year intervals, by completing the once-a-year maintenance. |
* An on-site investigation and audit by an insurance company is required to claim compensation.
* Compensation is limited to genuine products that have been correctly installed and serviced by an approved contractor. *The maximum compensation for human damages is €300,000 (approx. US$360,000).